The 2nd Symposium of Early Childhood Pedagogy will focus on the transformative nature of modern schools in the context of an inclusive pedagogical approach. The symposium explores the narratives of teaching practice from a diverse spectrum of early childhood settings. Case studies and good practices from difference educational systems will supplement research activities on the areas which alter modern schools and their students.
Participating academics, researchers and practitioners of Preschool Education from partner Universities in Greece and abroad will examine the architecture, type of communications, inter-subjective relationships, sociocultural conditions, production of knowledge and the epistemological, pedagogical and ethical meanings of education addressed in the early years.
Particular emphasis will be given to the discussion of the concept of transformative education for preschool education and the production of learning by students and teachers taking into account the challenges of globalization, new technologies, and multiculturalism.
Transformative education re-examines the meaning of learning as well as the widening of space and time of education with the use of new technologies and lifelong learning practices. The teacher becomes a designer of learning experiences, allowing horizontal and reflective dialogue and interaction among students, but also of amongst teachers and students. Schools are transformed into learning communities forging learning synergies based on reflection and global sociocultural and collaborative frameworks. They are also focusing their attention on the new capabilities of modern students so the latter can manage the fluidity and ambiguity of social change.
The themes of the 2nd Symposium focus on:
| | |
| --- | --- |
| Preschool Education & Curricula | Teachers' Professional Learning |
| Learning in Preschool & Primary Education | Profile and skills of professionals in Preschool Education |
| New Basic Skills of Students for the 21st century | Models of apprenticeship and continuing education of Preschool students and Educators |
| Transformation and Education | Diversity & Identity |
| Comparative Studies in Early Childhood Education | Intercultural & Differentiated Pedagogy |
| Student Assessment & Program Evaluation | Multiliteracies and Learning |
| Educational Policy, Administration and Leadership | Family-School-Community Collaboration |
| Special Education | New Technologies & Learning in the Early Years |
| Education & Arts, Music & Fine Arts | Didactics of Science & Mathematics |
| Contemporary issues / challenges of early childhood education for a participatory and inclusive citizenship | New Technologies (electronic learning environments & tools) |
Please register your interest to attend by the 15th of March 2015 (3nd round call) at https://easychair.org/conferences/?conf=ecp2015 providing:
• the title of your presentation,
• your preferred theme category to associate your presentation,
• a brief summary of 500 words,
• a picture of yourself and a short bio (in a word document as an attachment).
(Please see submission guidelines on our latest news page)
On behalf of the Organising Committee
Maria Sakellariou,
Eugenia Arvanitis,
Associate Professor
Head of the Department of Early Childhood Education
University of Ioannina
Lecturer,
Co-ordinator of Learning by Design network in Greece
Department of Educational Science and Early Childhood Education
University of Patras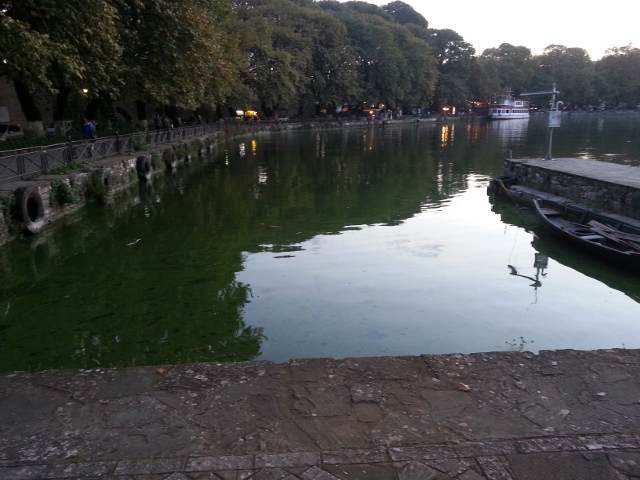 The Ioannina lake front...Catching up the boat to the Lake Island